Are you looking for something for your child to do around MLK or Presidents' Day weekend?  Join us for winter camp…five great days of winter fun!   Every day will be a new adventure, so you can register for one day or all five!   Enjoy these winter days outside with friends while engaging with nature.
The program is recommended for grades 1st-6th (ages 6–11)  and runs from 8:30am to 4pm with extended care available from 7:30-8:30am before and 4:00-5:30pm after camp. The daily schedule of farm animal feeding,
exploration, snack, and choice activities mirrors the special Fernbrook Farms summer camp schedule but with seasonal winter activities.
What do you do at camp during the winter?
We might build snow forts, track animals in the snow (or mud), make winter bird feeders, learn winter wilderness survival skills, warm up near the fire, tap sugar maple trees to make syrup, investigate the winter pond, play camouflage (and other outdoor games), visit the farm animals and so much more!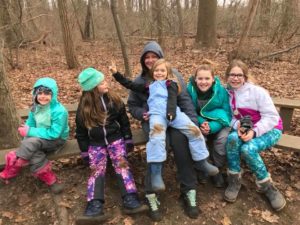 And if it snows…well let's hope so and our sledding hills will provide endless amounts of fun outside!